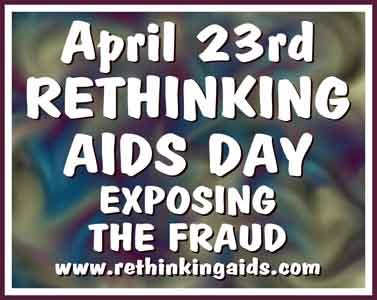 SUBJECT: Media Alert: Sunday April 19, 2009 1-4 PM EDT: Pre-empting the 25th Anniversary of the "probable cause of AIDS" Press Conference Only on the Robert Scott Bell Show

Sunday April 19 from 1-3 PM EDT (bonus podcast to follow)


Tune in to the Robert Scott Bell Show on Sunday, April 19, 2009, from 1 to 4 PM Eastern as we pre-empt the 25th anniversary of the infamous April 23, 1984 Gallo-Heckler "probable cause of AIDS" press conference with sane voices of reasoned, scientific discourse about HIV/AIDS.

Topics of discussion will include:
* The unanswered letter to Science by 37 scientists, doctors, legal professionals, and others calling for the retraction of the original four papers that served as the scientific basis for the claims made in the press conference on the grounds that they have been shown to be fraudulent.
* The Nobel Prize Award in Physiology or Medicine 2008 to co-recipients Dr. Luc Montagnier and Dr. Françoise Barré-Sinnousi for their discovery of 'HIV' (the suppose cause of AIDS) despite Montagnier admitting in an interview that they did not purify the virus and repeatedly stating over the years that HIV was not sufficient to cause AIDS by itself.


* The Rethinking AIDS 2009 Conference in Oakland California from November 6-8 where you will meet some of the show's guests and many others looking for a balanced perspective on HIV/AIDS.
* ...evidence in the long-running investigation into the use of toxic drugs on orphans in New York City in the Incarnation Children's Center orphanage and in New York's major hospitals, and then in Aids medicine in general. And many more!



Will the most eminent retrovirologist, Dr. Peter Duesberg, who in 1987 risked his career by daring to question HIV/AIDS theory join as well? Tune in to find out!